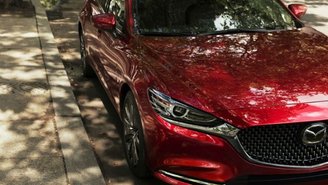 Every year, the U.S. Environmental Protection Agency releases its "Light-Duty Automotive Technology, Carbon Dioxide Emissions, and Fuel Economy Trends" report for the previous model year. In the agency's latest report for 2016, Mazda is the top automaker with the highest manufacturer adjusted fuel economy in America.
The EPA calculates the adjusted fuel economy by finding the average fuel economy of all models sold during the year, weighting the average based on sales for each model. Mazda averaged 29.6 mpg, a 0.3 mpg increase from 2015. Hyundai, Honda, and Subaru followed Mazda, averaging 28.8 to 27.9 mpg. These automakers also sell a large number of cars compared to large crossovers, SUVs, and trucks.
Mazda has a car-heavy product mix in a market that's dominated by selling large crossovers, SUVs, and trucks. Mazda's lineup does have a downside. Sales in 2016 decreased by 6.7 percent year over year. However, the overall automotive market grew by 0.3 percent in the same year. Mazda may be a fuel-efficient company, but consumers aren't considering fuel economy while fuel prices are low.
Fiat Chrysler Automobiles offered the worst fuel economy rating of 21.5 mpg, which is due to the automaker's large SUVs and trucks–vehicles Mazda doesn't sell. Ford and General Motors were the next worst automakers with ratings of 22.8 and 22.4 mpg, respectively.