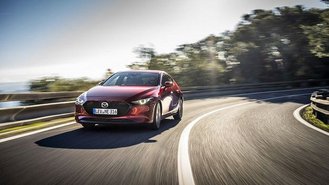 When you think of cutting-edge engine technology, the last automaker that likely springs to mind as pushing boundaries is Mazda. However, that's what the Japanese automaker has done with its new 2.0-liter Skyactiv-X engine, which combines spark-controlled ignition and compression ignition into one engine to boost fuel efficiency.
Mazda's new Skyactiv-X engine takes the spark-controlled ignition from your typical gasoline-powered engine and pairs it with compression ignition used in diesel engines, which lack traditional spark plugs. This is Mazda's only engine that uses this technology, and Mazda has promised considerable gains in fuel efficiency without compromising power, which Mazda appears successful.
Mazda says the engine is capable of producing 177 horsepower and 222 pound-feet of torque while delivering the equivalent of 44 miles per gallon combined. Mazda says the new engine delivers 5.4 liters per 100 kilometers combined fuel economy in the European WLTP test, which does differ from the American EPA tests, so the that may change if the engine comes stateside.
Mazda's larger 2.5-liter Skyactiv engine makes 186 horsepower and 186 pound-feet of torque while returning up to 30 mpg combined. The benefits of Mazda's new Skyactiv-X are readily apparent. One added benefit the Skyactiv-X receives is help from a 24-volt mild hybrid system, which collects energy during vehicle deceleration. The system then uses that energy to help boost fuel economy.
Sadly, the engine isn't coming to U.S. Mazdas just yet. Mazda told Motor1 the company is stymying the North American market as it considers the company's business needs. Mazda was quick to point out that it doesn't need the Skyactiv-X in the U.S. to compete—at least not yet—pointing out all the ways to further improve its Skyactiv-G and Skyactiv-D (diesel) engines.