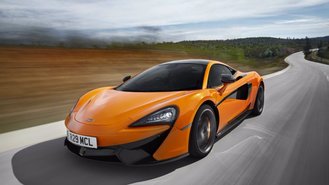 The McLaren 570S is the automaker's entry-level model and arguably one of the cheapest ways to get into the high-end world of supercars. At roughly $187,000, though, the 570S isn't exactly affordable. And it's the same situation with the 570S Spider, which is cheap by supercar standards, but still out of reach for the majority of drivers. To help everyone experience a McLaren, the British automaker introduced a new model that everyone should be able to afford, but there's a catch.
Thanks to a new partnership between McLaren and US toy company Step2, children can enjoy being pushed around in a McLaren-branded push car. The aptly named 570S Step2 Push Sports Car costs just $80, giving everyone the chance to say that they own a McLaren.
But despite its compact size, the 570S Step2 is quite practical. There's a storage space underneath the seat and, for those that are tasked with pushing a child around, a cupholder on the push handle. Still don't think this is good enough to wear the McLaren badge?
Well it gets better, as the push car is finished in Ventura Orange, one of the automaker's signature exterior colors, and has a flat-bottom steering wheel for children to clutch onto, which, as McLaren states, offers "excellent feedback." But it doesn't stop there, as the 570S Step2 has "Whisper Wheels" for a smooth ride, while the speaker plays engine noises.
For parents that want to get their children interested in cars, especially high-performance, insanely expensive ones, the 570S Step2 is a fool-proof choice. And it won't break the bank either. The push car will go on sale on Amazon next month for $80 before reaching other retailers later this year.