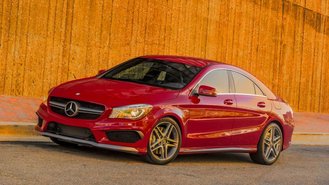 Just because we don't get the A-Class here in the U.S. doesn't mean that we cannot drool over the hot-hatchback. Today, Mercedes-AMG gave us even more reason to salivate over its A45 4MATIC with the release of a World Champion Edition model in celebration of the brand's constructors' championship in the 2015 F1 season.
This model rolls in with a slew of upgrades inside and out, setting it apart from its siblings. On the outside, Mercedes-AMG added Petrol Green and black accents, much like on the F1 W06 Hybrid. It also tossed in a set of 19-inch wheels with lips coated in the same Petrol Green, a larger front splitter, front flics, a rear spoiler, and the Night Package.
Inside, Mercedes-AMG went to town with performance seats wrapped in leather and Dinamica microfiber with a Petrol Green stripe. Other changes include Petrol Green topstitching on the dashboard and armrests, Petrol Green air vent rings, Petrol Green accents on the seatbelts, and a performance steering wheel wrapped in Dinamica with a Petrol Green 12 o' clock marker.
The engine that drives this limited production beast remains unchanged: a 2-liter turbocharged four with 381 horsepower. This, paired with 4MATIC all-wheel drive, sprints this hot-hatch to 60 mph in just 4.2 seconds. Mercedes-AMG did, however, enhance performance slightly with the addition of the AMG Dynamic Plus Package.
This special-edition A-Class will only be available in Germany from January through May 2016 at a base price of €65,402.40 ($69,176.12). There is no word on how many examples Mercedes-AMG will build, but chances are there will only be a few hundred.
While we cannot get this special model here in the U.S., we do have access to its first cousin in the platform-sharing 2016 CLA-Class and its CLA45 AMG. While it is rare for the CLA45 AMG to have any deals available, due to its limited supply, the rest of the 2016 CLA-Class has plenty of great lease and finance deals to choose from.