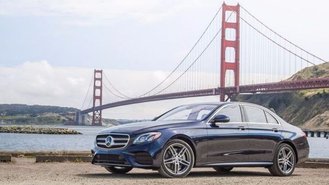 Mercedes-Benz has added the E400 sedan to its E-Class line-up for MY 2018. Available only in the 4Matic all-wheel-drive avatar, it will slot between the E300 and the E43 sedans.
The E400 gets a 3.0-liter twin-turbocharged V6 engine that produces 329 horsepower and 354 pound-feet of torque. Mercedes hasn't announced the how quick the new E400 will hit 60 mph time but we expect it to be pretty quick considering the E400 Wagon, with the same specs and more weight, does the sprint in 5.3 seconds – the E400 Coupe and Cabriolet are similarly brisk. These figures give the E400 a clear performance advantage over the E300, which packs just 241 horsepower and hits 60 mph in 6.3 seconds. Moreover, the new E400 Sedan isn't far off the E43 either, which produces 396 horses to rocket to 60 mph in 4.5 seconds.
Mercedes-Benz hasn't announced pricing of the E400 Sedan yet – look for it later this summer – but the E300 4Matic retails at $56,445 (including $995 in destination charges) and the E43 at $72,595. It's a safe bet that the E400 will squeeze in neatly between its siblings.
This, however, will make it a tad pricier than the six-cylinder versions of the Audi A6 and BMW 540i, priced at $58,600 (with $950 destination charge) and $57,445 (including a $995 destination charge), respectively. The A6 provides similar performance, hitting 60 in around 5.1 seconds thanks to its 333-hp, supercharged V6, while the BMW is faster still, with rear-drive models hitting 60 in 4.9 seconds and the all-wheel-drive version, which costs an extra $2,300, will arrive at 60 in just 4.7 seconds.
That said, the E-Class is arguably the star of this very competitive segment right now. That makes the idea of a more powerful, non-AMG-spec model compelling, even if it is pricier than the competition.