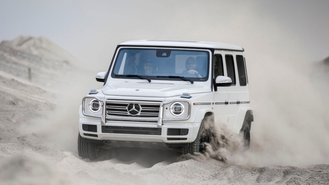 In a unique decision, Mercedes-Benz will introduce an all-electric version of the iconic G-Class. According to Motor Authority, Daimler CEO Ola Källenius confirmed the news during a speech at the Automobilwoche Kongress earlier this week. Company spokesman Sascha Pallenberg then confirmed the news in a Tweet.
We're certainly surprised by the decision. The G-Glass is one of the least efficient SUVs on the road and Mercedes was even discussing the possibility of cutting the boxy SUV out of its lineup. Instead of ending eliminating the model, Mercedes decided that introducing a battery-powered version of the G-Class is another way to ensure that it continues to be one of the more recognizable vehicles from the three-pointed star brand in the future.
The outlet claims that the electric version of the G-Class could be called the EQG, but other than that, details are scarce. The SUV's substantial size and boxy design will require a massive battery pack to ensure the SUV has a usable amount of range. While Mercedes has plans to introduce 10 electric vehicles by 2022, we don't think an electric G-Class will be one of them.
If anything, a plug-in hybrid G-Class or one with a mild-hybrid system is more likely to be introduced before Mercedes goes all-in with an electric. The G-Class could benefit from an electrified powertrain, as the most efficient SUV is rated at up to 14 mpg combined.
An electric G-Class already exists, but it's not built by Mercedes. Kreisel Electric, an Austrian company, will replace the G-Class' internal combustion engine with an electric powertrain that consists of an 80 kWh battery pack and an electric motor for a combined output of 482 horsepower and a range of roughly 190 miles. That's more than what you get with the base G-Class, which is rated at 416 hp. Arnold Schwarzenegger was one of the first to get an electric G-Class from Kreisel.
If Mercedes times the introduction of an electric G-Class right, the SUV would go unrivaled in the electric segment. Sure, there's the Audi e-tron, Jaguar I-Pace, and Tesla Model X, but those don't have the same history, boxy design, or off-roading capability as the G-Class. Startup Rivian is working on the rugged R1S, which is expected to be a three-row SUV with a range of up to 410 miles. The R1S is scheduled to come out in 2021.
Learn more about the G-Class »
Pictured: 2019 Mercedes-Benz G-Class