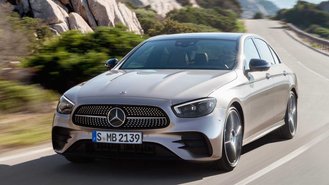 Automotive subscription services are a relatively new thing, as the majority of luxury brands introduced the new way of ownership just a few years ago. After two years of offerings its subscription program in the U.S., Mercedes-Benz has decided to discontinue the program, citing a lack of overall demand, reports Automotive News.
"If the demand would have been unbelievable, then it could have gone further," Adam Chamberlain, Mercedes-Benz USA head of sales, told the outlet. "But demand was just OK, so we kept it."
As a quick recap, Mercedes' Collection subscription service started in Nashville and Philadelphia in 2018 before being expanded to Atlanta in 2019. The idea behind the service plan was to offer consumers with access to 30 Mercedes-Benz models for a single monthly fee. Four pricing tiers that unlocked different vehicles were available, with the most affordable tier starting at $1,095, while the AMG-Exclusive tier was priced at $3,595 per month. The monthly price included insurance, vehicle maintenance, and 24/7 roadside assistance.
Unfortunately for Mercedes, Collection never really took off. The German automaker didn't expand it beyond the three initial pilot cities of Atlanta, Nashville, and Philadelphia, and only a few hundred customers signed up for the subscription plan, claims the outlet. Auto News states that executives at Mercedes-Benz expected the program to turn a profit within the first 12 to 18 months.
Subscription plans, like Mercedes' Collection, were a way for luxury marques to offer a new way to own a vehicle instead of purchasing or leasing it. As Chamberlain points out, Mercedes really wanted to know if younger buyers were interested in the more affordable method of luxury car ownership. Apparently, research indicates they were.
"One of the challenges of our brand is that the average age of our buyers is 55 years," Chamberlain said. "We wanted to see if the program would help bring in younger buyers, and it certainly did." The outlet states that the average user was 45 years old. Furthermore, 80% of subscription users were new to the Mercedes brand.
Chamberlain also told the outlet that vehicle swaps posed another challenge for users. "At the start, customers enjoy changing the car," he said. "After a certain period of time, that sort of gets old and they want to leave their car with their stuff in it."
While Collection didn't go as well as Mercedes hoped it would, Chamberlain doesn't see it as an absolute failure. He believes that Mercedes can use the data it gathered from the subscription program into targeting a younger audience. "We've got a mountain of data now — it gives us some insights into how we can target that younger audience that clearly have a desire for the brand," Chamberlain said.
Mercedes-Benz isn't the only luxury automaker that's having a hard time with its subscription service program. Recently, Cadillac pulled the plug on its subscription service called Book by Cadillac. It gave users access to all of the automaker's vehicles for $1,800 a month. Users could switch cars up to 18 times a year and was offered in Los Angeles, New York, and Dallas. Cadillac didn't provide a reason for why it decided to discontinue the service in November of 2018, but unnamed sources familiar with the matter at the time claimed it was too expensive. At the beginning of 2019, Cadillac resurrected the program with Book 2.0.
In August of 2018, BMW cut down the price of its subscription program – Access by BMW. At the time BMW's Legend tier went from $2,100 to $1,399 per month. The top M tier also decreased by $1,001 to $2,699 – a steep drop from $3,700. Access by BMW's most affordable Icon tier was priced at $1,099. Looking at Access by BMW's prices now, it goes $998 for the Icon tier, $1,399 for the Legend tier, and $2,699 for the M tier.
After hearing about the struggles Mercedes-Benz had with its Collection subscription service and seeing other automakers update theirs in an attempt to make them more attractive, it doesn't sound like they're really working. Still, if you're interested in a subscription plan for a luxury car, Volvo, Jaguar Land Rover, Porsche, Audi, Genesis Spectrum, and Nissan all have OEM programs in place.