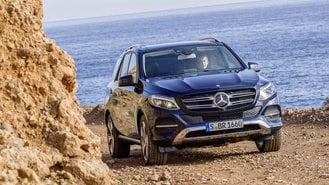 Fallout from the Volkswagen diesel emissions scandal has extended to other automakers and Mercedes-Benz's Bluetec range of turbodiesels may be the next casualties.
The automaker is unsure if it will start selling diesels in the US in 2017, if at all, according to Reuters. Dietmar Exler, president and CEO of Mercedes-Benz USA, said this week at the New York Auto Show the company was still in talks with the EPA regarding emissions certifications of 2017 Mercedes diesels, but was unaware of the status. It stemmed from an April 2016 review of all Mercedes diesels ordered by the Department of Justice.
Previously, Mercedes-Benz offered the E-Class sedan and several SUV models with either four or six-cylinder diesel engines. It had planned to offer the C-Class sedan with a four-cylinder diesel, but later backed off that plan following the emissions investigations. Later, it said it would offer only the full-size GLS-Class SUV with its 3.0-liter V6 turbodiesel, citing a significant portion of that vehicle's predecessor were sold with that engine. Overall, diesels made up just between two and three percent of Mercedes' US sales, Exler said.
Mercedes has added several plug-in hybrids to its sedan and SUV lineup in recent years, likely courting efficiency-minded customers who may have otherwise opted for one of their diesels.
Mercedes could be joining VW in exiting the US diesel market just as General Motors, Jaguar Land Rover, and Mazda are expanding their offerings.