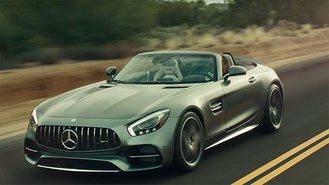 If you once lived life like you were born to be wild, are you still true to the legend – or are you now more inclined to be reborn as an easy-riding AMG roadster driver?
Mercedes-Benz's entry in this year's Super Bowl commercial sweepstakes is a surprising and gleefully surreal minute-long riff on the legacy of the counterculture classic Easy Rider. Directed by brothers Joel and Ethan Coen, featuring an appropriately sly appearance by Peter Fonda, and soundtracked by Steppenwolf's you-know-what, the 66-second spot succeeds in cheerfully poking fun at both nostalgia-heavy biker culture and geriatric ailments while positioning the 469-horsepower AMG GT Roadster as the ride of choice for those who need a late-life alternative to a hardtail Harley.
The ad is part of AMG's 50th anniversary celebrations; the tuning shop founded by former Mercedes engineers Hans-Werner Aufrecht and Erhard Melcher (the A and M in the name; G is Aufrecht's hometown of Grossaspach) built its first racing engines in 1967. Easy Rider actually debuted in 1969, but the Sixties could allegedly be like that.
The GT Roadster, the droptop version of Mercedes-AMG's well-received GT hardtop sportster, goes on sale later this year. Pricing has yet to be announced, but Captain America will probably need more than a gas tank full of cash for one.