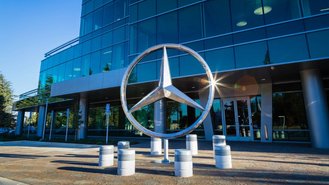 The entire automotive industry saw a small uptick in sales in November, as it grew 1.2 percent, but this growth doesn't owe any thanks to Mercedes-Benz. The German automaker saw its November sales fall by 12 percent to just 32,813 total units. This is the biggest slide it's seen since it fell a massive 22 percent in July 2009.
There doesn't appear to be any logical reason for the slide in November, but it is certainly not due to lack of interest in luxury brands. To put this into perspective, luxury sales leader BMW saw a sales growth of 3.2 percent while Lexus jumped by seven percent, Volvo skyrocketed by 90.5 percent, and Infiniti sales increased by 2.5 percent. Even Cadillac, which recently halted its fleet sales and cut discounts, saw a sales increase of 1.8 percent.
Check out the full lineup of new Mercedes-Benz models »
Adding insult to injury, Mercedes also saw its sister brand, Smart, drop a ridiculous 19 percent in November.
With Mercedes constantly trying to keep pace with BMW, there is a good chance that we'll see some aggressive incentives in the coming months. Look for the biggest incentives on models that live in highly competitive segments, like the C-Class, E-Class, and S-Class.
We also have to keep in mind that buyers may still be getting used to Mercedes-Benz's new naming scheme, which saw the M-Class change to the GLE-Class and the GLK-Class become the GLC-Class. While this likely isn't the sole reason for the decline, the initial confusion may have caused immediate reduction in interest.