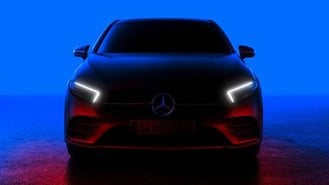 Mercedes-Benz recently put out a picture of the new A-Class before the compact vehicle makes its official debut at a special event in Amsterdam, reports Motor Authority. The A-Class will be the first vehicle in the automaker's next generation of compact family vehicles and will be revealed on February 2.
The single, vague picture from the automaker revealed the A-Class' front end. While there's not a lot to go off with the picture, the compact vehicle shares a similar face to the new Mercedes-AMG CLS-Class. The check-mark headlights, chunky grille, and rectangular air intakes all mimic the same design as the recently-unveiled sedan.
While we've seen prototypes in both sedan and hatchback body styles, the teaser image doesn't definitively point towards which body the A-Class will be revealed in. US consumers are moving away from sedans and into SUVs, but hatchbacks are even lower on the totem pole. A sedan variant of the A-Class, then, is the more likely entry in the U.S.
The A-Class would become the automaker's entry-level vehicle, sitting underneath the CLA Coupe. While the A-Class will be smaller than the coupe-like sedan, it shouldn't suffer from the same cramped backseat. Cargo capacity should also be better in the more compact vehicle.
Motor Authority reports that Mercedes' compact family will have a total of eight vehicles. We'll have to wait until next week to see the A-Class in the flesh, but the automaker previewed what the vehicle would look like at the 2017 Shanghai Auto Show last April.