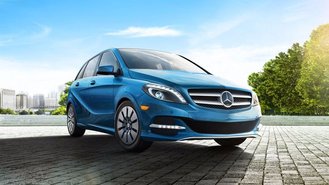 Under heavy scrutiny following VW's emissions scandal, automotive manufacturers are facing added costs and reduced sales potential for diesel-powered cars. Mercedes-Benz has long offered diesel models in the U.S. and Europe, but even it is feeling the burn of Dieselgate, so it is looking deeper into the world of electrification, according to a Bloomberg report.
This report, which follows the claims of two unnamed industry insiders, says that Mercedes is working on releasing an all-electric sub-brand, à la BMW's i brand, by the end of the decade. This brand, according to the insiders, will include four models—two sedans and two SUVs. What's more, it seems as if these will be all-new, ground-up models and not existing models with new powertrains.
This yet-to-be-named sub-brand will use Mercedes-Benz's factory in Bremen, Germany, according to the sources. This also happens to be where Mercedes will manufacture its fuel-cell version of the GLC-Class.
While we can appreciate the fact that Mercedes is looking in other areas to improve its greenness in light of the Dieselgate scandal, the timing seems a bit off. As of late, fuel prices are nearing record lows, BMW has put the development of more i models on ice, and Tesla is starting to show big holes in its financial stability. So, the next four years may not be the ideal time to start rolling out costly EVs.
For those who don't want to wait for the premium sub-brand to launch, there are great deals on the brand's existing EV, the B250e. This model has an aggressive 36-month lease deal that runs just $440 per month with no money due at signing or $329 per month with $4,123 due at signing. For those looking for something more premium, there is the S550e hybrid sedan that features a 36-month lease deal for $1,217 per month with nothing due at signing.