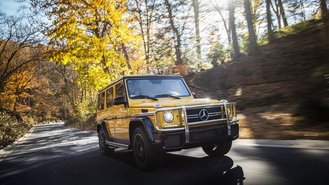 Volkswagen's dieselgate scandal has had a severe impact on the perception of diesel in the US, and now it looks like it's causing a major German automaker to rethink its commitment to the technology. Despite having a new diesel engine that reportedly meets emissions standards in Europe, Mercedes-Benz doesn't have any plans to bring a diesel-powered vehicle to the United States, reports The Detroit Bureau.
The head of research for the Mercedes-Benz Car Group, Ola Kallenius, told the outlet that the new diesel engine is one of the most advanced motors ever engineered by the automaker. Unfortunately, due to a lack of consumer interest, there's absolutely no way the engine will ever find its way to the US market.
"It does much better on emissions for Europe," Kallenius told TDB in an interview at the North American International Auto Show. But it only accounts for a meager three percent of the brand's sales.
"The diesel doesn't fit into our portfolio in the US," Kallenius said.
The lone exception will be the Mercedes-Benz Sprinter, which will continue to offer a torque-tastic diesel powertrain.