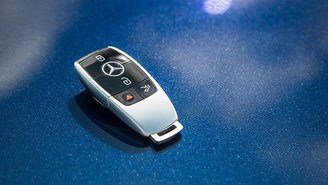 Daimler AG, the parent company for Mercedes-Benz, has announced it will recall over a million vehicles, including over 354,000 here in the United States, after receiving reports of 51 fires.
The Detroit News (via the Associated Press) reports that effected vehicles include late-model C-, E-, CLA-, GLA-, and GLC-Class sedans and crossovers from model years 2015 through 2017. In government documents released Friday, Daimler claims an electrical current limiter in the starter could overheat after repeated failed attempts at firing a vehicle up. The overheating limiter could melt nearby parts, The News reports, compounding the problem.
Of the 51 reported fires, 30 took place in the US, Automotive News reports. Mercedes isn't aware of any injuries or fatalities related to the recall.
The fix involves installing a fuse, although parts won't be available until June. The News reports that Mercedes will begin notifying US consumers of the problem later this month.