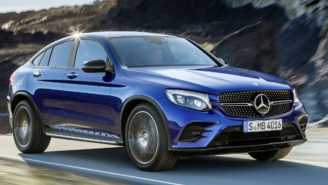 For the third year in a row, Mercedes-Benz topped the list for luxury vehicle sales in the U.S. last year. While third time is a charm for Mercedes, BMW was only 5,000 units behind, according to Automotive News. Car sales for Mercedes fell by 6.3 percent to 315,959 last year, while second place BMW saw sales increase by 1.7 percent to a total of 311,014 units.

Lower down the totem pole, Lexus, which came in third with 298,310 vehicles sold, saw its figures decrease by 2.2 percent. The last of the German three, Audi, came in fourth, as its deliveries fell by 1.4 percent to a total of 223,323 vehicles sold.

All in all, luxury vehicle sales in the country fell 0.3 percent to a total of 2 million units. The rest of the auto industry, saw an increase of 0.6 percent last year.

Surprisingly, three of Mercedes' most popular vehicles included the GLC-Class, C-Class, and E-Class. While car sales are down compared to crossovers and SUVs, the C-Class and E-Class didn't lag too far behind the GLC's figures. BMW's spread, on the other hand, was more in-line with the current trend, as crossovers accounted for 63 percent of the brand's sales in December. For BMW, its most popular model was the BMW X3.

Both Mercedes and BMW have a few new vehicles in the pipeline that could help them increase their respective luxury sales. There's the new Mercedes-AMG GT 4-door Coupe, which looks to be a promising sports sedan. BMW has the all-new 3-Series, Z4 Roadster, and X7 SUV.