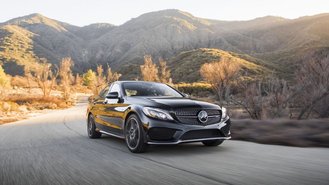 Mercedes-Benz is putting a spin on the iconic last-person-standing contest. During Super Bowl 52, the automaker will be giving away a Mercedes-AMG C43 to a patient fan that can keep their finger on their smartphone the longest.
The contest sounds pretty simple – all someone has to do is keep his or her finger on the phone for a long time. That's something a lot of people do on a daily basis anyways. But the virtual C43 AMG Coupe will move around the screen, which could catch some contestants off guard.
As more contestants drop out of the competition, a live counter will appear on the screen and show the number of remaining competitors. The counter will also display how long everyone's managed to keep his or her finger on the performance coupe. While it's a modern take on a classic competition, the rule of the last person touching the car wins still applies.
For individuals that are interested in competing for the sporty coupe can practice their skills by visiting the website, LastFanStanding. The competition officially starts at 6:30 PM EST, which is the same time as kickoff, on Sunday, February 4. Mercedes wants fans to take this seriously, as it will provide contestants with tips and tactics on game day.
Contestants with a Twitter account – who doesn't have one of those these days? – will receive a five-minute "timeout" where they'll be able to take their finger off of the car for 300 seconds if they share the contest after registering. That could come in handy for an emergency restroom break or getting a quick snack.