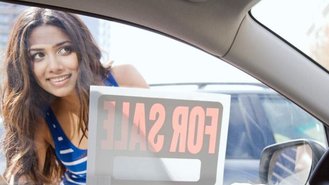 Born between 1980 - 1999 a massive generation widely known as the millennials are now responsible for driving the growth of new auto loans. The group, which is comprised of roughly 80 million people right here in America represents the single largest cohort size in history. Thousands of these millennials are beginning to graduate. Moreover, there's a widely-held belief that big student loan debts are preventing these consumers from getting auto loans.
Best Deals on a New Car for College Graduates »
Millennials More Responsible
But according to credit reporting agency Trans-Union, that simply is not the case. The agency has reported that millennials who carry student loan debt are generally able to gain access to new loans. Even more interesting is that these consumers perform just as well or even better at paying back those loans and avoiding delinquencies than a similar group who don't have any student debt. In other words, they're responsible in that they understand how paying off their loans helps to boost their credit scores among other reasons.
Big College Debt, No Problem
With that being said, the amount of student debt in the U.S. totals a mind-numbing and wallet-crushing $1.1 trillion (as of Q1 of 2015) so it's easy to see why the myth exists. Regardless, the numbers furnished by TransUnion don't lie: auto loan originations have increased by 16% when compared to 2009. In addition, total loan originations for millennials now account for 27% of new auto loans--a number that's likely to increase as the economy adds better-paying jobs.
Get approved for an auto loan »
Auto Loan Balances Increase
So, how much are millennials borrowing to buy that shiny new car? The answer is surprising. Total balances owed have increased 23% compared to last year and the average opening loan balance has jumped to $18,678, or the price of a compact car like the 2015 Volkswagen Golf or 2015 Ford Focus.
College Graduate Incentives
Helping to close sales on vehicles purchased by recent college graduates are the neat & tidy $500 discounts found on a bevy of new 2014, 2015 and 2016 models. Sometimes, the discounts can be stacked on top of preexisting incentives to help sweeten the deal even further. You can see all the discounts here.
The Takeaway
Regardless of how advanced today's new cars get, millennials will continue to take out auto loans and purchase new vehicles as long as lines of credit are available. In addition, they're actually more likely to pay off their loan and avoid delinquency than their peers who don't graduate and/or carry college debt.
Learn more about auto loans here »
Information for this article was pulled from TransUnion's Newsroom.