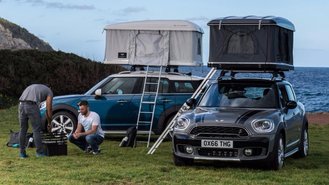 Interested in the outdoor lifestyle but on a much smaller scale? If so, then you might want to consider the latest model from Autohome, a company that specializes in vehicle-roof-mounted tents, as a possible solution. The Italian manufacturer's special edition AirTop is a two-person tent engineered for the new Mini Countryman and other Mini models that mounts directly to the conventional roof rails and requires no tools to install.
Constructed of fiberglass, weighing about 128 pounds (58 kilograms), and finished in black or white (to better match Mini's traditional contrasting roof and mirror caps), the AirTop looks like a typical roof storage box – think Thule here in the US – when closed.
But raise it via the four gas- pressure springs and the roof tent expands to 9.5 cubic feet (271 liters) of living space with two doors, a pair of zippered windows, a high-density mattress, and "close-meshed mosquito nets at all openings." A battery-operated LED supplies lighting to an interior equipped with an elastic roof net for luggage and four storage pockets for smaller items. A solid, height-adjustable, aluminum ladder is also included, allowing campers to easily reach the "top floor" of their Mini.
The special edition AirTop can be purchased directly from Autohome for 2,836.93 Euro including VAT (about $3,090 at today's rates) plus shipping. That's a lot for car camping, but if you'd rather not sleep on the ground, it's not a bad arrangement.