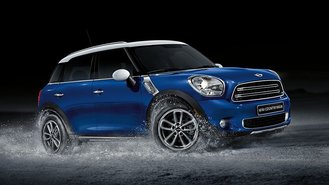 The numbers are in, and for the BMW Group's MINI brand, they're anything but: 20,303 models sold last month alone which represents a 27 percent increase compared to last year. Even more impressive is the fact that last month only had twenty-eight days to sell, meaning that dealerships across the U.S. moved a blistering 725 MINI models per day. The numbers all add up to give the brand it's best start ever.
Rising fuel costs and aggressive incentives continue to help drive sales since, and that's good for consumers looking to buy or lease one of the seven available models that are currently available for sale. But don't let the small size fool you--each model has its own particular style. And each MINI model features slot-car like handling that will have you grinning from ear-to-ear. If you haven't driven one, set up a quick test drive this weekend since you have an extra hour of sunlight. You'll be amazed. And don't worry--they are all extremely fuel-efficient (see chart below).
This month, the deals are aplenty. A bevy of promotional APRs and lease specials are available, not to mention an unadvertised program geared to boost sales while saving you more of your hard-earned money. But the deals are set to expire March 31, 2015.
March Deals & Incentives on a MINI