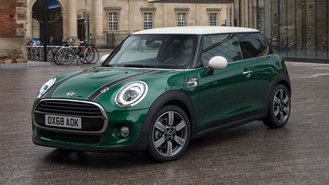 Enthusiasts have had to grind their teeth as they watch the slow death of the manual transmission. Over the past few years, fewer and fewer automakers are offering vehicles with manual transmissions. Last May, MINI announced that the manual transmission would not be offered on 2020 models. Mercifully, MINI is bringing the manual transmission back for the 2021 model year on the majority of its lineup.
For 2021 Mini Cooper two- and four-door hardtops, Cooper S two- and four-door hardtops, John Cooper Works two-door hardtop, Cooper Convertible, and Cooper S Convertible, a manual transmission will be standard. MINI points to a few exceptions, mainly the John Cooper Works GP. While that vehicle seems like it should come with a manual transmission, MINI states that the vehicle's eight-speed automatic transmission is tailor-made to handle the vehicle's high output of 301 horsepower. The John Cooper Works Convertible is the other car that won't come with a manual, as that vehicle has an exclusive seven-speed dual-clutch automatic.
MINI fans will notice that Clubman and Countryman models are out of the loop. Don't worry, a manual transmission will be available with those models, but information on those vehicles haven't been formally announced yet. News will become available once MINI has confirmed its entire 2021 lineup, which should happen before the end of spring. Of the Clubman and Countryman models, the ones with all-wheel drive and the John Cooper Works versions will not be available with a manual gearbox.
The decision to bring back the manual gearbox on its vehicles comes down to fun. "Fun to drive is the number one reason why customers choose to purchase a Mini, and many of them enjoy the experience of driving a MINI with a manual transmission," said Patrick McKenna, head of product planning for MINI USA.
While we agree with McKenna in saying that cars with manual transmission are more enjoyable to drive, a lot of consumers don't feel the same way. BMW, MINI's parent company, only offers a few vehicles with a manual transmission and the majority of them are high-performance variants that fit under the brand's "M" lineup. So, seeing Mini go against its parent company's trend is unusual.
Cars with manual transmissions, as a whole, aren't doing that well. Earlier this February, a report from Green Car Reports stated that electric vehicles were more popular than cars with manual transmissions in 2019. For consumers still wanting a manual transmission, you're going to wind up spending a lot of money. Hatchbacks with manual transmission are pricey and the only other way to get a car that allows you to go through the gears yourself is to buy a sports car. Even those, though, are starting to be offered without manual transmissions. Look at the new Toyota Supra and Chevrolet C8 Corvette as proof.
We're certainly happy to see MINI bring the manual transmission back on the majority of its lineup, but we're not sure if they're here to stay. In 2019, a report from Carbuzz revealed that take rates for Toyota's cars with manual transmissions were incredibly low. This could be a last-ditch effort from Mini to see if offering a manual transmission is worth it in the future.