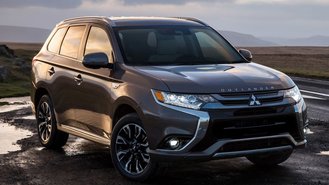 At the 2018 Geneva Motor Show, which starts this month, Mitsubishi will reveal an extensively updated Outlander PHEV for the 2019 model year. Exterior updates are minimal, but the powertrain sees substantial improvements.
The 2019 Outlander PHEV will go from a 2.0-liter Otto-cycle gas engine to a 2.4-liter Atkinson-cycle gas engine. The differences of these two systems are too complex to explain in great detail here, but multiple automakers use Atkinson-cycle engines for one main purpose – to improve fuel efficiency. Mitsubishi says it's doing that and delivering more torque. While output numbers aren't out just yet, Mitsubishi has hinted at the powertrain's overall improvements.
Battery capacity increases by 15 percent over the outgoing model while battery output increases by 10 percent. Generator output and rear motor output also increase by 10 percent. If our math is right, the battery capacity should jump from 12 to 13.9 kilowatt-hours while the rear motor increases to 66 kilowatts. Two new drive modes – Sport and Snow – join Normal and 4WD Lock for 2019.
Visual changes are mostly at the front of the SUV. The grille receives a new graphic, joining new LED headlights and rectangular foglight bezels. There's also a more prominent skid plate to help give the SUV off-road credibility in appearance only. The Outlander PHEV receives two-tone, 18-inch wheels and a large rear spoiler.
The interior receives an update, but Mitsubishi likely won't share that until Geneva. Luckily, the wait won't too long. The press descends on the Swiss city on March 6 and 7.