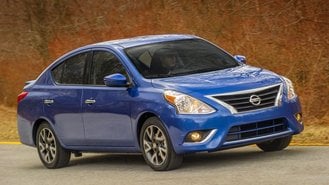 The Takata airbag recall – the largest automotive recall in US history – continues to grow as Nissan announced additional affected cars. The Japanese automaker is adding certain 2007 to 2008 Nissan Versa subcompact cars to the list of vehicles affected by the issue.
While the recall is affecting more vehicles, it's only a handful of Versa sedan and hatchback models that are being added to the list. The recall affects just 233 Versa models with the airbag components that could explode. Nissan inadvertently excluded these 233 vehicles from an earlier recall, which included 2007 to 2011 Versa models.
The Versa may have a faulty inflator, which is a small explosive device that sets off the airbag. However, hot or humid climates could deteriorate the combustible gas, making the explosion much more potent than intended. This added power can cause shrapnel to be shot into the passenger cabin. Nearly two dozen deaths worldwide have been attributed to the issue, which affects 19 automakers. Takata built the faulty inflators between 2002 and 2015.
Owners of the affected Versa models didn't receive the necessary notices and instruction on how to get their faulty airbag replaced. Nissan began mailing new notices to affected customers in late July to owners with a vehicle built between December 7, 2006, and May 26, 2008. Concerned owners can call Nissan directly at 1-800-867-7669.