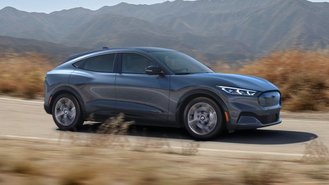 Ford took a gamble by endowing its first electric crossover, the Mustang Mach-E, with the same name and styling as the iconic Mustang. It looks like the wager paid off because the automaker has received an incredible number of reservations for the electric vehicle. Despite opening the reservation books in November, Ford has already filled its reservations book for the Mach-E First Edition.
Ford put out a press release with a bunch of facts on how consumers are configuring their Mach-E First Edition, though the automaker failed to state just how many reservations it filled. Kelley Blue Book claims that Ford stated only 9,999 units of the First Edition would be made at the Los Angeles Auto Show. While Ford's probably happy to see the Mach-E doing very well, it's not getting the same attention as Tesla's wonky Cybertruck. Tesla claimed that it received roughly 200,000 reservations just a few days after the electric car's debut.
Getting back to the Mach-E, Ford claims that more than 80% of reservations are for the model with an Extended Battery Range. That battery pack is expected to have a range of roughly 300 miles. Nearly 55% of reservations also include all-wheel drive, which, when paired with the Extended Battery Range, reduces range to approximately 270 miles. If you're interested in the breakdown of colors, 38% are going with Carbonized Gray, 35% are choosing their Mach-E with Grabber Blue, and 27% are reserving a First Edition with Rapid Red.
If you missed the boat on the Mach-E First Edition, sorry. But not all hope is lost. The Mustang Mach-E Premium and GT trims are still available for pre-order. The GT trim, which is the most expensive Mach-E trim with an MSRP of $60,500, is proving to be the more popular trims of the two, as roughly 30% of customers in the U.S. are choosing that trim. That's interesting to see because the GT trim won't arrive until Spring 2020 and is expected to have a range of 250 miles, while the more affordable Premium trim ($50,600) will go on sale in late 2020 and has a targeted range of 300 miles.
We're not really surprised to see the breakdown for Mach-E First Edition reservations. All-wheel drive has quickly become a must-have for consumers and roughly 300 miles of range seems to be the sweet spot for electric vehicles. What is interesting, is to see just how many consumers opted for the most expensive Mach-E trim, despite the much longer wait time. Pricing has always been one of the things that separate vehicles with internal combustion engines and electric cars, but it looks like Mach-E consumers are more than willing to pony up the extra cash to have some more high-end features.
The last bit of juicy information from Ford's press release is that nearly 25% of all reservations for the Mach-E are coming from California. Clearly, consumers on the West Coast are hopping on board the EV train much quicker than consumers in other parts of the U.S.