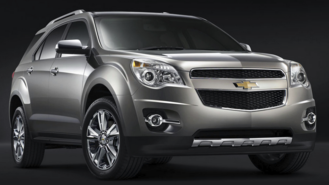 With the auto-show season in full-swing, the second big show to hit the U.S. will feature new 2016 and 2017 models, along with concepts and previously-unveiled models like the $150k 2015 Acura NSX and 2016 Nissan Titan.
The redesigned CR-V and new HR-V compact crossovers preview a new, smoother styling direction that will now extend to an all-new full-size 2016 Pilot model. The 8-passenger Pilot gets a more aerodynamic look, plus a new efficient Earth Dreams direct-injection powertrain.
The strong-selling Equinox now faces newer competition, so Chevrolet has heavily updated styling to match the larger Traverse. We'll also see interior upgrades and new advanced active driving safety tech.
Acura's momentum gained from the all-new TLX and updated ILX sedans now moves toward its compact luxury CUV, the RDX. More than a light refresh, the 2016 RDX will gain a brand new more-efficient powertrain plus comprehensive updates to its styling and interior.
The Camry Special Edition mostly consists of an appearance package, getting unique wheels, seats, interior trim, and instrumentation. The Corolla Special Edition also gains mechanical tweaks, including paddle shifters, rear disc brakes and a retuned powertrain.
Ford Police Interceptor Utility
Ford's Explorer-based Police Interceptor Utility far outsells its law-enforcement sedan model, so the automaker brings several changes to match the updated civilian 2015 Explorer, along with the technology features the nation's police departments most often request.
All-New RAM Model
A mystery until RAM's Chicago press conference, the workhorse brand will be getting an all-new addition, although mum's the word on if it's a truck, cargo van, or something completely unexpected.