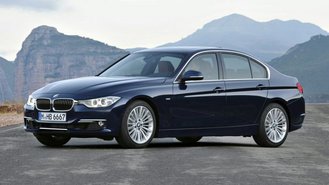 On numerous occasions, we've sang high praise in regards to the new diesel-powered models hitting U.S. soil. We're getting the updated and uprated models which have peppered every square centimeter of European roads. And more importantly, we're finally beginning to adopt these new diesels. The models of today are not the same oil-burning, smoke-spewing heathens of yore. They're quieter. They're more fuel-efficient. And they're way more fun to drive.
But right off the bat, the first thing a prospective shopper will see is the initial price difference between traditional gasoline-powered models and the nearly identical diesel-powered counterparts.
Reviewed: 2015 Volkswagen Golf TDI »
Diesel Fuel vs. Gasoline
Coupled with the lower overall price of diesel fuel compared to regular 87-Octane, the case for diesel is growing. This especially rings true in California, where diesel averages around $0.52 less than regular gas. Though it might not last forever, it still represents a 17% price difference in diesel's favor.
Deals on Diesel
If you begin to peel back the layers of info, deals and incentives begin to emerge. Two solid examples come from Germany. The 2015 Volkswagen Passat and the 2015 BMW 328d. Both are offered in traditional gasoline-powered guise as well as diesel.
2015 Volkswagen Passat TDI
The 2015 Volkswagen Passat is the automaker's answer to the relatively conservative midsize sedan segment. The Passat offers comparable cabin space and features while providing a more dynamic driving experience than your typical Camry or Accord. But neither of those models are offered in diesel configuration. In the case of the Passat, the TDI carries an MSRP of $2,845 more. But that's only part of the story. Volkswagen typically offers unadvertised discounts that are three times more than what they typically offer on their gasoline-powered stablemates.
See 2015 Volkswagen Passat TDI Pricing »
2015 BMW 328d
In the case of the award-winning BMW 3-Series, the model is offered in several variants. For the sake of this article, we'll only delve into the standard 328 and 328d. The standard 2015 BMW 328 is a juggernaut in its segment, and ranks atop numerous best-of lists the world over. But in diesel form, it takes that formula and adds better fuel efficiency and a higher driving range. Granted, the MSRP of the 328d is higher than that of the standard 328--but the incentives on the 328d are just a smidge better. The standard BMW 328 comes in at an MSRP of $38,495 and the 2015 BMW 328d carries and MSRP of $39,995--a difference of only $1,500. Tack on this month's incentives and the deal sweetens a bit more in the diesel's favor. Moreover, the lease special is especially tempting since it's essentially the same monthly payment as the standard 328. A win-win.