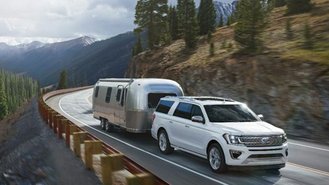 If towing is significant priority for your full-size SUV, the upcoming 2018 Ford Expedition might land at the top of your list.
Ford announced Thursday the redesigned Expedition, shown in February, has been rated to tow up to 9,300 pounds, according to the Society of Automotive Engineers J2807 standard. Not only does that approach full-size pickup levels of ability, but it also exceeds that of the Expedition's prime competitors.
Rivals include the Chevrolet Tahoe, with up to a 6,400-pound towing capacity, the Toyota Sequoia at up to 7,400 pounds, and the Nissan Armada at 8,500 pounds. Even the outgoing Expedition is rated at just 6,600 pounds. The news is not only a significant victory for Ford, but likely its Lincoln division, which is introduced the Expedition-based Navigator earlier this year at the 2017 New York Auto Show.
While it's too soon to say whether the Navigator will share the Expedition's impressive towing capacity, if it did maintain the 9,300-pound rating, the Lincoln would outgun its arch-rival, the Cadillac Escalade, by 1,000 pounds.
Pitching it as a towing vehicle with three rows of seats, Ford says the 2018 Expedition can also be equipped with Pro Trailer Backup Assist, a system that can do the reversing for the driver if the vehicle is hooked up to a trailer. The system works via a knob on the dash and basically allows owners to drive the trailer precisely where they want it, just as if they were reversing a normal vehicle. Considering the challenge some owners face when trying to reverse a trailer into position, Pro Trailer Backup Assist could be the key to preventing some embarrassing parking lot maneuvers.
Powered only by a 3.5-liter turbocharged V6, the 2018 Expedition is set to go on sale in the fall.