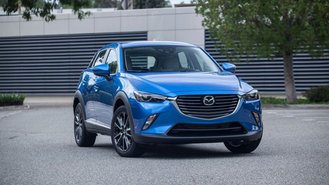 Mazda isn't hurting for market share, as its zoom-zoom personality has found a small but loyal reception here in the U.S. But, according to Automotive News, with the retirement of North American CEO, Jim O'Sullivan, and the installation of new CEO Masahiro Moro, the automaker's focus will shift from relying heavily on the Mazda3 and its tight profit margins, and more on crossovers, which according to Moro, have buyers who are more willing to spend money and increase profit. Moro is also banking on the likelihood that crossover buyers will return to the brand for their next cars.
Mazda is already doing very well with its crossover sales, as the CX-3, CX-5, and CX-9 have accounted for 42 percent of the brand's sales in the U.S. through November 2015, but Moro wants to see more than 50 percent of its total sales coming from crossovers in the near future.
With the arrival of the redesigned CX-9 and the popularity of the CX-3 growing, Mazda should see a small uptick in crossover sales. However, this will likely not be enough, so look for the automaker to start offering additional incentives and deals on these crossovers to boost sales. On the flipside of things, look for Mazda to start trimming back on deals for the Mazda3, as it tries to scale back its sales ratios relative to these profitable people haulers.
In recent months, Mazda has been aggressively offering deals on the CX-9, but the CX-3 and CX-5 have been limited in terms of deals. This should change in the early part of next year, which is when Moro takes the reins.
We'll bring you all the latest monthly incentives on Mazda's selection of crossovers, so keep an eye out for these.