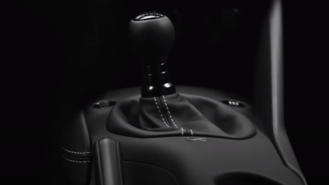 As the date for the reveal of the upcoming Nissan Z sports car gets closer, the Japanese automaker is providing more details about the sporty coupe. The latest piece of information Nissan dropped about the Z Proto, which is set to debut on September 15, is that it will come with a manual transmission. Enthusiasts, rejoice.
Nissan showcased the manual transmission in a short YouTube clip that also featured a few revs of the engine. It's not much, but this is the first time we're getting actual details on the Z Proto. The clip clearly shows a manual transmission being put into first gear. While the image is dark, it looks like the sports car will feature a traditional six-speed manual gearbox.
In addition to confirming the manual transmission, the sound of the engine revving certainly has that iconic V6 rasp. Beyond the exhaust note, the clip doesn't give away a lot of information. Rumors indicate that the sports car could come with a turbocharged 3.0-liter V6 that's found in a few of Infiniti's vehicles. A version of the Frontier's 3.8-liter V6 engine is also rumored to be a possibility.
So far, that's all we know about the Z Proto. The sports car will compete against the Ford Mustang, Subaru BRZ, Toyota 86, Mazda MX-5 Miata, and Chevrolet Camaro. All of those competitors are offered with manual transmissions. With manual transmissions disappearing from the market, it's refreshing to see Nissan stick with one for the new sports car. Also, Nissan's offered a manual transmission on all of its other Z models, so it's certainly sticking to tradition.
There's still a lot we don't know about the Z Proto. We know that it will be inspired by older Z sports cars with similar lines to the classic 240Z and taillights that resemble the ones found on the 300ZX, but we haven't gotten a good look at the vehicle yet. Hopefully, we'll learn more about the Z Proto in the next few days, as the vehicle is expected to make its virtual debut in four days.