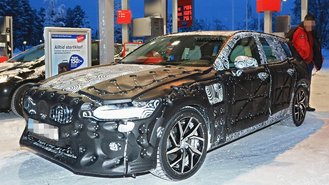 Autocar's spy photographers managed to capture a Volvo V60 test mule completing its winter testing ahead of the wagon's expected launch at the Geneva Motor Show later this March.
Despite being heavily camouflaged, it's clear to see that the upcoming V60 will get some design cues from the new V90 and XC60. The brand's Thor's hammer LED headlights have been added to the wagon, flanking a sleek grille that should be in line with the V90's. The elongated hood looks like it has also been borrowed from the V90, while the wheels look identical to the ones on the XC60 SUV. The design changes would help Volvo create a single, upscale theme throughout its lineup.
Autocar believes that the V60's powertrain options will mimic the ones found in the XC60. If that's the case, the wagon will have a 2.0-liter turbocharged inline-four that makes 250 hp and 258 lb-ft of torque as its base engine. A supercharged and turbocharged version of the engine making 316 hp and 295 lb-ft of torque could also be offered.
While the outlet claims that the hybrid powertrain found in the T8 XC60 SUV, which consists of a turbocharged and supercharged inline-four and a 87-hp electric engine, could be the range-topping engine, we don't think Volvo would put that powerful of a powertrain into the compact wagon. Instead, whatever hybrid powertrain the automaker comes out with for the XC40 compact SUV makes more sense.
With an all-new V60 in the works, an S60 sedan shouldn't be that far off.