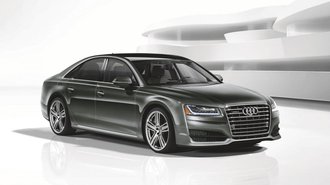 The Audi A8 has been atop the company's luxury sedan lineup for two decades and it is likely to up the stakes for technology and opulence when the newest iteration is revealed this summer.
Audi will reveal the new A8 July 11 at an event in Barcelona, according to Motor Authority. CEO Rupert Stadler confirmed the redesigned luxury sedan will debut a new driver assistance system for Audi that will allow for actual self-driving with no driver input (so-called Level 3 ability). While a driver still needs to be behind the wheel, it's a step beyond many of today's semi-autonomous systems, which require constant monitoring by a human pilot.
Audi's system will only work at speeds up to 37 miles per hour, which means most of its value is during traffic jams and other low-speed situations. The A8 may also be able to drive itself in parking situations.
Engines on the new A8 should consist of turbocharged V6 and V8 units, as well as a plug-in hybrid at some point, as Audi has promised to increase the availability of plug-ins across its lineup in the near future.
The new A8 will likely go on sale in Europe in the fall, with US sales unlikely before at least the start of 2018. Expect prices to start no lower than the current model's $78,000 kickoff point.