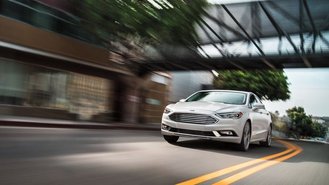 Have a look around at the local Five and Dime Grocery next time, and it'd be hard to miss the slew of variously-sized crossovers that dominate the parking lot. Their popularity with consumers is spelling disaster for the tried-and-true family sedan, so much so that Ford is considering moving production of the Fusion outside of North America entirely.
According to Automotive News, Ford has told suppliers production of the next Fusion would move overseas. The mid-size sedan is currently built in Hermosillo, Mexico, and was previously built in Flat Rock, Michigan, alongside the Mustang sports car. Previous reports indicated that Ford could build the sedan in China and ship it to the US, although the company has denied this. But to be frank, there aren't a lot of other production sites that make sense.
The only other real option was Valencia, Spain, where the Fusion's European-market twin, the Mondeo, is made, and the company has already announced that it's ceasing production of the four-door at that facility. Despite the uncertainty about where Ford will build its next mid-size sedan, we're still expecting it in 2020 as a 2021 model year vehicle. Whether it will still be sold in the US remains an open question, though.
The decline of Fusion sales coincides with an overall automotive trend. Sales of sedans of all sizes are struggling as automakers expand their lineup of crossovers. The Fusion is a case in point – introduced in the US in late 2005 as a 2006 model year, its sales are down over the last three years from a high of 306,860 models sold in 2014. So far this year, Fusion sales are down 22 percent through November.