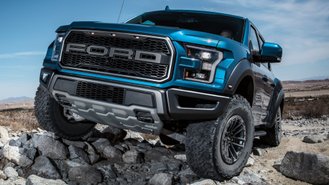 Every automaker wants to be the top dog, regardless of what segment their respective vehicle is competing in. For decades, the Ford F-150 Raptor went unrivaled in the full-size pickup segment. The incredibly capable off-roader has always been about high-speed desert runs and no one else in the industry wanted to compete with that. Until now. Ram recently introduced the 1500 TRX, which is powered by a 702-horsepower Hellcat V8 engine and Ford's not too happy about it. With the ball in Ford's court, the automaker is reportedly looking for ways to one-up the new TRX.
Currently, the Raptor uses a twin-turbocharged 3.5-liter V6 that makes 450 horsepower. That's a good amount of power for a full-size truck, but it's easily outgunned by the TRX's supercharged 6.2-liter V8. According to a report by The Drive, Ford is looking to take the supercharged 5.2-liter V8 engine from the Mustang Shelby GT500 and shoehorn it into the Raptor. That would certainly make it more of a competitor to the TRX.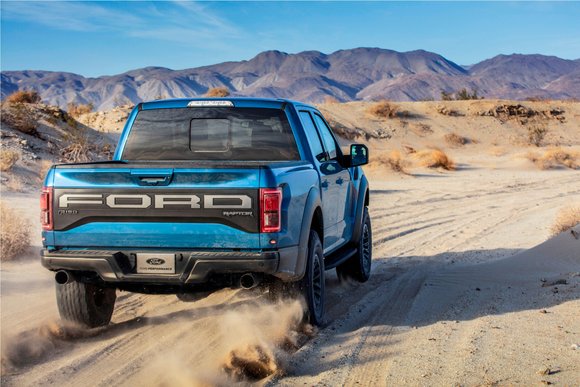 According to the outlet, in the Raptor, the engine will be good for somewhere between 725 and 750 hp. In the Mustang, the motor is good for 760 horsepower. So, if all goes to plan and engineers do find a way to put the engine into the Raptor, it would, once again, be the king of the off-roaders. The engine won't be the only upgrade Ford will bring with the V8-powered Raptor. The outlet believes that the drivetrain and suspension, which could move to a coil-spring setup at the rear, could also receive upgrades.
"Honestly, we had to counter Ram once we knew they installed the Hellcat in the TRX," an unnamed source at Ford told The Drive.
This isn't the first time we've heard about the possibility of Ford stuffing a V8 engine into the Raptor. Last March, Car & Driver reported a similar story of the Raptor getting the supercharged 5.2-liter V8 engine in a special version of the pickup. With rumors of a possible V8-powered Raptor coming so closely after the TRX's debut, it certainly seems like Ford is working on an ultra-high-performance Raptor with eight cylinders.
The Drive claims the pickup could arrive as early as the beginning of 2021. With pricing for the 2021 Ram 1500 TRX starting at $71,690 including destination, we're sure Ford's upcoming V8 Raptor will be priced similarly.