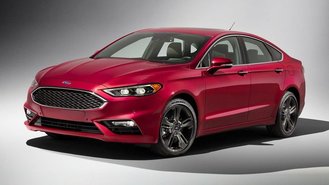 Rumors the future of the Ford Fusion could be finite started swirling last month when it was reported Ford was moving production of the family sedan outside North America. Now, The Detroit News is reporting Ford is canceling its planned redesign of the Fusion for the 2020 model year.
Earlier reports also noted Ford would continuing building the sedan in China, but that the company would not export those vehicles to North America or Europe.
Slow sales, which are plaguing sedans of all sizes across the industry, are causing automakers to push heavily into offering crossovers of various sizes, Ford included. When Ford named Jim Hackett the new CEO last year, one goal he announced was to reevaluate Ford's portfolio of products. It makes little sense to invest money in a redesign of a vehicle with slowing, sluggish sales.
Ford spokesman Mike Levine told The Detroit News, "Fusion remains an important part of the Ford lineup for years to come with even more new fresh features on the way. We will have more news to share in the future."
A source also told the publication the Fusion could continue for another three or four years in its current form. Ford could then use the nameplate on another vehicle that is not a sedan, like a new crossover platform.
Ford wouldn't be the first automaker to toy with the idea of axing its sedan offering. In 2016, Fiat Chrysler Automobiles announced it was discontinuing production of the Chrysler 200 and Dodge Dart sedan, instead opting to build the Jeep Renegade, which share the same platform.