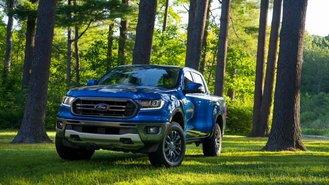 When Ford came out with the Ranger Raptor, the American automaker was adamant that it wouldn't be sold in the U.S. We already have the Ford F-150 Raptor, so Ford never saw a reason to bring the smaller version of the off-roading-oriented pickup to America. Apparently, that's going to change in the future, as a report now claims that the introduction of the next-gen Ranger will spawn a Raptor version for American consumers.
Australian outlet CarExpert, citing unnamed sources that are familiar with Ford's future plans, claims that the 2021/2022 Ranger Raptor will be sold in the U.S. Additionally, the website has a screenshot that reveals the upcoming Ranger Raptor, at least in its U.S. specifications, will come with a turbocharged 2.7-liter V6 engine. The engine will reportedly be good for 325 horsepower and 400 pound-feet of torque. Other markets, like Australia, will get two other engines, including a turbodiesel and a 3.0-liter turbo V6. All three engines will come with a 10-speed automatic transmission.
If the report is true and Ford does decide to offer the Ranger Raptor in America, the pickup truck will be a welcomed addition to a popular section of the class. Toyota and Chevrolet both offer high-performance, off-roading versions of their respective compact pickup trucks. The F-150 Raptor has been a lucrative vehicle for Ford, and we believe a Raptor version of the Ranger would sell well in the country, too.
Furthermore, the decision to put a turbocharged 2.7-liter V6 engine into the Ranger Raptor makes sense. Ford offers a 2.7-liter V6 EcoBoost engine in the F-150 that makes 325 hp and 400 lb-ft of torque. That engine sounds identical to what CarExpert claims would be available in the Ranger Raptor. In the F-150, the engine is an additional $995 over the base 3.3-liter V6.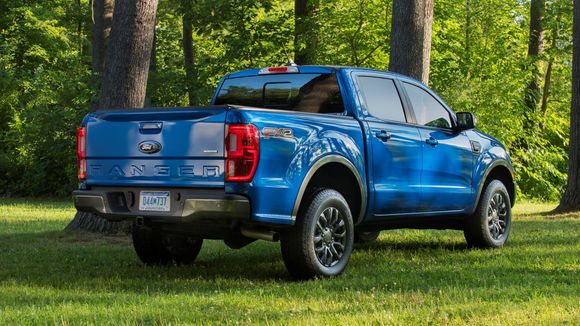 Pricing remains a mystery, but we're sure the Ranger Raptor will be much more affordable than the current F-150 Raptor. We expect to see a large difference in performance, as well. The F-150 Raptor starts at $55,150 and comes with a 3.5-liter EcoBoost V6 engine that makes 450 hp and 510 lb-ft of torque. The pickup also features bespoke off-road Fox racing suspension, a locking rear differential, long-travel suspension, and all-terrain tires. High-tech features like a six-mode trail management system and Ford's Trail Control are also included on the model. We expect the Ranger Raptor to get similar features, but not to the point where it will start encroaching on the F-150 Raptor's price tag or performance level.
For now, consumers in the U.S. that want a Ranger with some off-roading chops can choose from one of three new packages that Ford recently introduced. There's the Ford Performance Level 1 package that costs $2,495. It brings an off-road leveling kit, Fox shocks, 17-inch wheels, and Ford Performance graphics.
The Ford Performance Level 2 package adds an engine calibration to increase power to 315 hp and 370 lb-ft of torque (up from 270 hp and 310 lb-ft of torque), off-road BFGoodrich tires, an off-road fog light kit, blue tow hooks, and a stainless-steel license plate frame. The kit is priced at $4,495 and adds all of the features from the Level 1 package.
Lastly, there's the Ford Performance Level 3 package. It's the priciest of the bunch with a price tag of $8,995. It brings red tow hooks, a 4-inch LED lightbar kit, an ARB winch-capable front bumper, a chase rack, and a sport exhaust system. All of these features are on top of both of the lower packages. These packages don't include the installation fee, are dealer-installed packages, and are for 2019 and 2020 Rangers with four-wheel drive.
While not nearly as capable as what we expect to see from a Ranger Raptor, these three performance packages are the best consumers can get at the moment if they're looking to go off-roading with their Ranger. Based on the report, the Ranger Raptor will most likely make its global debut in 2021, which means arriving in the U.S. as a 2022 model. Hopefully, we'll learn more about the pickup in the upcoming months.
Build & Price Your Ford Ranger »
Pictured: 2020 Ford Ranger