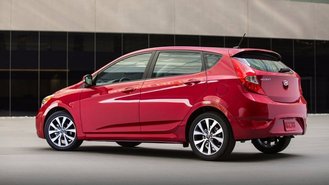 A weakening market for cars means some long-standing models may not be renewed. First it was the Azera at Hyundai, and now it's the Accent Hatchback.
Sources with CarsDirect say the Accent will only be available as a four-door sedan when the redesigned version goes on sale this fall. A hatchback will be available in other markets such as Canada, however.
"Production, distribution and dealer stocking complexity are always key factors of market efficiency for any vehicle, including limited-volume vehicles such as Accent," Hyundai spokesperson Derek Joyce told CarsDirect. "Hyundai continues to offer a number of other compelling hatch-equipped bodystyle configurations to meet those buyer needs – the Elantra GT, Veloster, and CUVs."
The subcompact car segment has been hurt by both the increase of choice and popularity of subcompact crossovers, as well as a slowdown in fleet sales by most automakers. Because of the low profit margins typically associated with these vehicles, automakers would rather steer customers to larger, more profitable models.
An Accent hatchback doesn't appear to be off the table for the US in the future, but for now, Hyundai would rather small car buyers look at models like the Elantra, Veloster, and upcoming Kona crossover.