Recently, automakers have developed modular platforms that underpin a number of vehicles. For Toyota, the common platform is called Toyota New Global Architecture (TNGA). It's found on everything from the Toyota Corolla, Avalon, Prius, RAV4, and more. Moving the majority of its vehicles onto the TNGA platform has reduced Toyota's costs and endowed the cars with similar handling characteristics. Now, it looks like Toyota is planning to do something similar with its trucks.

According to a report by Automotive News that cites unnamed sources, Toyota is planning to move the Tacoma and the Tundra onto a shared platform. A Toyota spokesperson didn't respond to the outlet's request for comment. A shared platform in this instance means that the two trucks would have the same chassis.

At the moment, both of Toyota's trucks are built on the same assembly line in San Antonio, Texas, but have different platforms. Being on two different platforms adds a high level of complexity when it comes to manufacturing the two vehicles, as Automotive News states that there are 37 different configurations for the two pickups. Creating a platform that both the Tacoma and the Tundra can share will greatly simplify things for Toyota and increase efficiency. Not to mention lower the Japanese automaker's costs.

This isn't a radical idea, as Nissan already uses a shared platform for its pickup trucks. The midsize Nissan Frontier and the full-size Titan share a lot of the same parts and frame, though the latter is unique is size and composition for the two offerings.

While there are a lot of upsides to moving the Tundra and the Tacoma to the same platform, Toyota could face a couple of challenges. The most obvious one is size. The Tacoma is much smaller than the Tundra, and being able to ensure that the Tundra is noticeably larger than the Tacoma could be difficult. The same issue could result in the Tacoma being heavier than other midsize offerings on the market.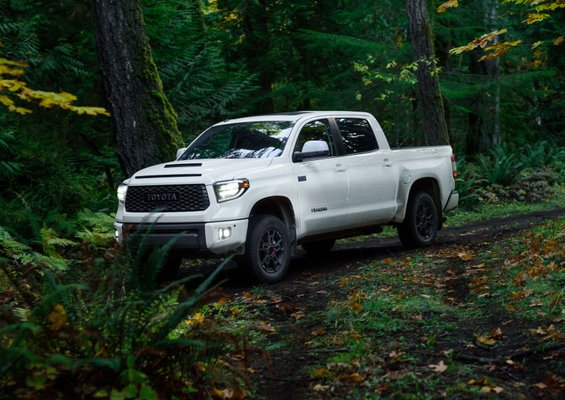 >As Automotive News points out, when push comes to shove, the automaker will probably choose the Tacoma over the Tundra. The Tacoma is one of the more popular midsize pickups in the segment, while the Tundra lags behind the competition.

While having the same platform underpin the Tacoma and the Tundra is big news, the outlet claims that electrification is also in the future for the trucks. There's nothing official to quote here, but the pickups could get a similar system to the Ram 1500, which features a 48-volt mild-hybrid system.

Since the Tacoma and the Tundra share a lot of the same components with the 4Runner and the Sequoia, there's a high chance that all four of the vehicles could share the upcoming platform and electrification powertrain. Auto News states that the shared platform is "near completion," and could be found on a vehicle as soon as the 2021 model year.