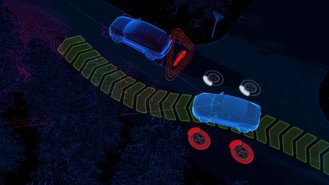 The next Volvo XC60 is designed to keep drivers out of trouble.
At least that's what Volvo says is the reason for its new Oncoming Lane Mitigation system that will be shown on the upcoming vehicle. An adaptation of the company's current suite of safety systems, the new XC60 attempt to avoid a collision with another vehicle by automatically assisting in steering movements. This works between roughly 37 and 86 mph.
For lower speeds, the new automatic steering assistance will also be available through the City Safety system, an existing system that is meant to prevent fender benders in traffic speeds. Volvo says the latest system, which will work between 30 and 62 mph, can automatically brake and steer the car away from contact with another vehicle, a pedestrian, or a cyclist.
Volvo claims systems like City Safety have contributed to a decrease in low-speed rear-end collisions in Sweden by 45 percent and believes the XC60's new systems will improve on that statistic. It's still no replacement for paying attention while driving, but in some cases, it can improve response times and lessen the force of a collision, if not avoid it altogether.
The new XC60 will debut March 7 at the Geneva Auto Show and likely go on sale in the US by the end of 2017.