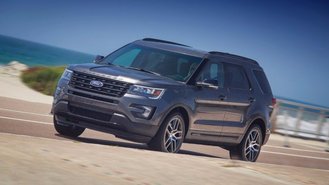 The National Highway Traffic Safety Administration is expanding an investigation into the popular Ford Explorer crossover SUV after more reports emerged of exhaust fumes and carbon monoxide entering the cabin. 1.33 million vehicles could be affected now.
According to Reuters, over 2,700 complaints, three crashes, and 41 injuries could be blamed on the issue. The biggest development in this ongoing case was the Austin Police Department's decision to pull 40 Explorer-based Police Interceptor Utility models from its fleet after more than half a dozen officers fell ill.
Originally started as an investigation into 638,000 Explorers way back in 2016, NHTSA initiated an engineering analysis on July 27. That's just one step away from a full-blown recall. Today's investigation covers model year 2011 through 2017 Explorer models in both civilian and police specification.
NHTSA's preliminary testing has revealed carbon monoxide levels could climb in certain driving conditions, although it cautioned that there's "no substantive data or actual evidence…supporting a claim that any of the alleged injury or crash allegations were the result of carbon monoxide poisoning."
Ford has issued a number of technical service bulletins related to the exhaust issue and told Reuters it continues to investigate alongside NHTSA and police departments.