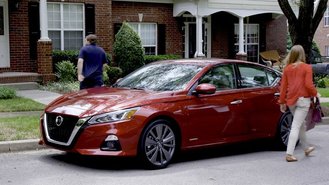 Nissan has come out with an innovative safety feature to stop parents and guardians from leaving their child in the rear seats on a hot day. While the technology will have a direct impact on saving children's lives, a pan of stinky lasagna that was left overnight in the back seat of a car was the original reason for the inception of the feature.
The way Rear Door Alert (RDA) works is pretty straightforward. The piece of technology monitors when the vehicle's rear doors are opened and closed before and after a trip in the vehicle. For instance, if you take the family to Starbucks and your passengers in the rear open the doors when taking off, the system will remember that and expect the rear doors to open when the car comes to a stop.
To make sure that owners don't leave precious cargo in the rear seats, RDA will honk the vehicle's horn through "subtle, distinctive chirps" at the end of the journey, prompting drivers to take a second look at the back seats. A notification will also be displayed in the instrument panel. The RDA system can be temporarily or permanently disabled through the menu in the car's instrument cluster.
RDA was the invention of two mothers that are also engineers.
"The idea was inspired when I accidentally left a pan of lasagna in the back seat of my car overnight," said Marlene Mendoza, one of the mechanical engineers behind the technology. "The worst thing was the car smelled for days, but it made me ask myself, 'What if I left something far more important back there?'"
Leaving a stinky pan of lasagna in the back of a vehicle overnight is an unfortunate accident, but the technology will go a long way in saving lives. Safety organization Kids and Cars states that 37 children die from heat-related deaths that arise from being trapped inside a hot car every year on average.
RDA is currently standard on the 2018 Nissan Pathfinder and will expand to eight other models in the automaker's lineup for the 2019 model year as a piece of standard equipment. By model year 2022, RDA will be offered on all of Nissan's vehicles.
General Motors has a similar feature in its vehicles that's called Rear Seat Reminder. That system, though, emits a sound from within the vehicle instead of utilizing the horn.