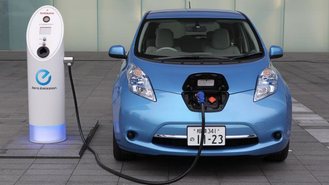 The 2015 Nissan LEAF can get 84 miles on a full, single charge. That's a key detriment to the penultimate commuter car. The fact of the matter is that drivers fear running out of juice, especially on non-planned commutes that present themselves more often than not. To help assuage those very fears, Nissan is working on developing a second generation battery that will power future vehicles, including the next LEAF.
Current Deals & Incentives on a 2015 Nissan LEAF >>
At this week's North American International Auto Show in Detroit, MI, Nissan's Chief Planning Officer Philippe Klein acknowledged the fears, stating "It's fair to recognize we are a bit short. But for commuting purposes, we are not very far from getting out from range anxiety."
Read: 2017 Nissan LEAF Preview >>
And according to Nissan's CEO Carlos Ghosn, the new battery will help to double the existing LEAF's range to 170 miles per charge. We think the range will have to be closer to 200 to really change the psychological aspect of being stranded, regardless of AAA's Mobile Charging Stations.
How many miles would you need for Electric Car to travel on a single charge?
Let us know in the comment section below.