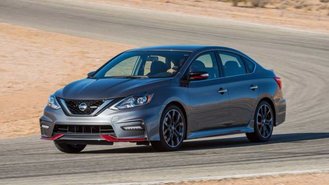 Get ready for more fast Nissans (and Nissans that look like they are fast).
The Japanese company announced Monday it would expand its Nismo performance division to produce more road-going cars in the future. Nissan is expected to add more models that wear the badge typically associated with its motorsports vehicles, upping production significantly from 2016's 15,000 vehicles, the company said.
Currently, Nissan sells Nismo-ed versions of the Sentra, Juke, 370Z, and GT-R in the US. Some, like the Sentra and Juke, are relatively mainstream vehicles that get a boost with the Nismo badging, while the 370Z and GT-R sports cars are the most racing focused of those lines.
What this means for consumers is a wider choice of Nissans that are more sporting than the mainstream versions. Nismo versions tend to have more powerful engines, stiffer suspensions, racing-inspired interior and exterior touches, and sit at the top of the model lineup.
Nissan rival Ford has expanded its performance offerings to mainstream vehicles, while Hyundai has already announced it would market a new performance division in the near future.