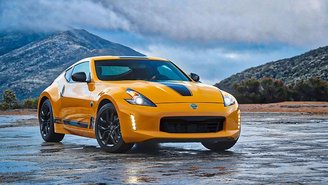 The 2018 Nissan 370Z Heritage Edition is what happens when an automaker tries to revive interest in a car that hasn't changed much in eight years.
Nissan announced Wednesday subtle revisions to the 370Z, including some restyled pieces in the front and on the door handles, as well as new lights and a performance clutch for cars equipped with the otherwise unchanged six-speed manual transmission.
But the biggest alteration to the 370Z lineup comes in the form of the new Heritage Edition package. Available on the base 370Z Coupe, the package comprises special exterior and interior trim to distinguish it over non-special edition models. It comes in two colors and stripe schemes: Magnetic Black with silver exterior stripes, or Chicane Yellow with black trim. Both models feature a yellow-and-black interior color scheme, but are otherwise the same as a base 370Z.
The six-speed manual is standard, but a seven-speed automatic is optional. And a 332-horsepower 3.7-liter V6 continues to power all models.
The 2018 370Z will be formally shown next week at the New York Auto Show, and the company says it will arrive in dealerships this spring.