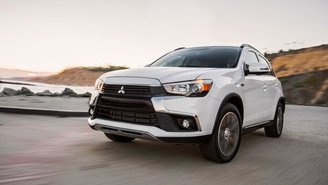 Nissan and Mitsubishi are no strangers on the dancefloor as they are already working together on a 50-50 venture in Asia that produces minicars. Now, according to a report from Nikkei Asian Review, the two are about to take their relationship to a whole new level.
The report claims that Nissan is prepared to shell out a whopping 200 billion yen ($1.84 billion) to purchase 30 percent interest in Mitsubishi. With this purchase, Nissan hopes to stabilize its fellow Japanese automaker amidst its fuel-economy scandal in Japan—none of its U.S.-spec cars were impacted by this scandal. While 30 percent doesn't sound like much, that would actually make Nissan the primary shareholder, besting Mitsubishi Heavy Industry's 20 percent ownership.
Not only is Nissan looking to right Mitsubishi's path to help with its minicars, but it is also looking to better compete with Honda and Toyota in Asia. Mitsubishi can immediately give Nissan more reach on its home continent as the former has a strong hold of the Thai and Indonesian markets. What's more, Mitsu's movement into the world of EVs should stack up well against Honda and Toyota's focus on fuel-cell vehicles.
According to the report, the companies will soon meet to decide on how they will tie in their capital and iron out any additional details before officially announcing the deal. We'll keep monitoring this developing story and bring you updates.
While Mitsubishi is far from a popular brand in the U.S., it does have some pretty aggressive deals that put it on the radar of budget shoppers. For example, buyers can get the 2016 Outlander with a $1,000 rebate or get 0 percent APR and $500 in bonus cash. The smaller Outlander Sport has even more-aggressive deals as buyers can get up to $2,000 in rebates on the remaining 2015 models and 0 percent APR for up to 72 months.