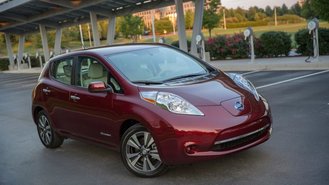 In case you missed it earlier this month, Nissan recently bought a controlling 34 percent stake in one-time competitor Mitsubishi for a cool $2.2 billion. Nissan has a pretty big task ahead, reforming the embattled company, which happens to be involved in its third scandal in the last 20 years. Rumors are now swirling that Nissan has already selected a technology chief to help guide Mitsubishi back into favorable light.
According to Automotive News, which is getting its info from an unidentified source within Nissan, the plan is to install Nissan's a former executive vice president in charge of product and technology research and development in the chief tech role at the newly acquired automaker. This would not only give Nissan a friendly face at its newest asset, but also a person it can trust to right all the wrongs of the past few decades. The report indicates that this move could take place as early as Wednesday, May 25th.
Though Automotive News' sources refused to give their identities—this often increases the likelihood of the report being false—this claim aligns perfectly with Carlos Ghosn's belief that Mitsubishi would be run by executives from Nissan. Only time will tell whether this report will be true or not, so stay tuned for more details.
With the possibility of Nissan leading the charge at Mitsubishi, this makes us wonder if we'll start seeing aggressive deals at Mitsubishi similar to those at Nissan. A great example is the 36-month lease on the 2016 Nissan LEAF that runs $199 per month after paying just $1,999 at signing. For those who would rather finance, the LEAF is eligible for up to $4,000 in bonus cash and 0 percent APR for up to 72 months. What's more, both of these deals are in addition to the up to $7,500 tax incentive from Uncle Sam.