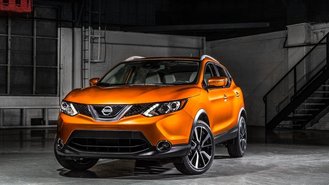 Nissan's suite of advanced safety technologies, packaged as ProPILOT Assist, will be available on the Rogue Sport in the US in late 2018. The system adds several safety features to provide a "hands-on driver-assist" experience. The Rogue – which includes the Rogue Sport – is the automaker's top-selling nameplate in the country.
According to Nissan, ProPILOT Assist brings the automaker closer to self-driving vehicles. The system allows for a nearly autonomous driving experience in limited single-lane highway conditions with full automation able to control the steering wheel, accelerator, and brake system. The system assists drivers with keeping the vehicle in the correct lane, help navigate stop-and-go traffic, maintain vehicle speed, and maintain distance from vehicles ahead. Eventually, the system will be usable on multi-lane highways and execute automated lane changes.
Nissan plans to offer ProPILOT Assist on the 2019 Altima sedan, which goes on sale this fall, before expanding the technology to 20 models and 20 markets by the end of the company's 2022 fiscal year. However, Nissan doesn't say which models would get the technology or in which markets. Currently, only the Rogue, 2018 Nissan Leaf, and 2019 Infiniti QX50 feature ProPILOT Assist.
The Rogue S – the entry-level offering in the lineup – already comes equipped with a host of safety features out of the box. Standard safety features include blind-spot monitoring, automatic emergency braking, and rear cross-traffic alert. ProPILOT Assist takes those systems and elevates them.