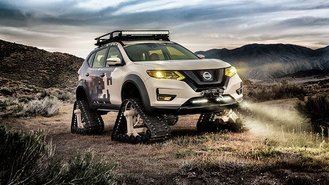 Nissan thinks its Rogue Warrior Trail Project stands out, even with its camouflage exterior. It's hard to argue against that.
Created as a one-off design for the 2017 New York Auto Show, Nissan took a standard Rogue crossover and attached Dominator snow and sand tracks where the conventional wheels would usually go. The tracks are 48 inches long, 30 inches high and 15 inches wide, so the Rogue needed to get additional ground clearance and some design tweaks to accommodate the changes. And it sort of looks better for it.
Nissan added a few exterior touches to distinguish the tracked Rogues from the stuff you'll see on dealer lots. Changes include a camouflage wrap, yellow headlights, a roof-mounted-gear basket, an LED lighter, and a winch.
Even this project, however, is still motivated by the same standard 2.5-liter four-cylinder engine and CVT automatic transmission as a standard Rogue, so it's unlikely the US Army would be looking to replace its Humvees with this machine.
Still, it may give you ideas for aftermarket modifications if you don't want your Rogue to look just like the hundreds of thousands sold every year.