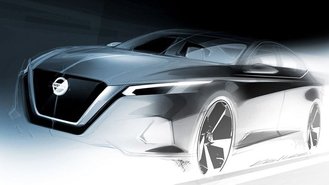 Numerous offerings in the midsize segment have been redesigned in an effort to draw consumers away from crossovers. Nissan, while a little late to the party, has teased a new 2019 Altima ahead of the vehicle's debut at the 2018 New York International Auto Show.

Nissan recently released a sketch of what the vehicle could look like. From the single photo that the automaker released, it looks like the sixth-gen sedan will take a lot of design cues and inspiration from the Vmotion 2.0 concept that was unveiled at the Detroit Auto Show in January.

The wide V-motion grille looks like it was plucked straight from the concept car. The grille looked a little funny on the concept, but that might have due to the metallic paint and sharp edges. In the sketch, it looks a lot better and, dare we say, gives the sedan an assertive design.

The grille isn't the only good-looking thing in the sketch. The headlights have been slimmed down from the current gen's and have a prominent section that's solely devoted to the daytime running lamp that caress the bottom of the hood.

Along the side, the sedan, at least the drawing of it, is a lot more sculpted than the current variant with side sills that seem to recess into the actual vehicle and a beltline that kicks up as it reaches the back of the vehicle. That last design cue may give the Altima a four-door couple-like look.

While the sketch reveals a much-better looking vehicle, it is just a sketch and we're sure some of the design elements won't make it to the actual sedan. Those wheels, for instance, look a little too aggressive for a Nissan. While we like them, we doubt Nissan would okay that design for a road-going sedan.

The good news is that we won't have to wait long to see the actual 2019 Altima in the flesh, as the New York Auto Show kicks off at the end of March.