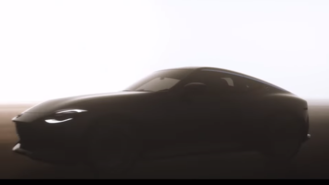 Saying that Nissan is in the middle of a rough patch would be an understatement. The Japanese brand has been having a difficult time the past few years and is looking to put everything behind it with an extensive plan that includes introducing 12 models in the next 18 months. One of those vehicles will be an all-new Z sports car that was teased in a short video.
The most exciting bit of news from the video is the upcoming release of the next-gen Z sports car. It's rumored to be called the 400Z and will reportedly be inspired by sports cars from Nissan's past, including the 240Z and 280Z. From the sports car's brief cameo in the teaser video, it certainly looks like it has the same overall shape and sweeping lines as those iconic cars. Beyond the silhouette, the only other thing we can make out in the video is a new "Z" badge that sits just behind the window surround.
The next-gen Z isn't the only thing Nissan will be working on over the next year or so. There's the electric Ariya crossover, all-new Frontier pickup truck, Rogue Sport, Armada, Kicks, and Rogue. Some of the updates look like they'll range from full redesigns to mild facelifts.
Nissan also unveiled a new four-year plan that will see the automaker cut production capability and reduce the number of models it sells globally by approximately one-fifth. Plants in Spain and Indonesia will be shut down, and Nissan will pull out of the South Korean market. Nissan's Datsun brand will be pulled from Russia, too. Expanding its electric offerings, making its ProPilot driver-assist system available on more vehicles, and ensuring plants are being run properly are also things Nissan will do to boost its profits.
Bringing updated vehicles to market should help the automaker be more competitive. Over the past few years, Nissan has gained a reputation for letting vehicles live well past their expiration date. The Frontier, for example, hasn't been fully redesigned since the 2005 model year. The 370Z is nearly as ancient, being introduced as a new model in 2009. The Murano and Maxima were both all-new in 2015. The Rogue is still in its second generation that came out in 2014, while the Rogue Sport is slightly newer, being introduced in 2017.
It may not be coming at a good time for Nissan, but refreshing the majority of vehicles it offers is well overdue. If Nissan wants to compete with fresh, new vehicles from Hyundai, Kia, Mazda, and even Honda, updating nearly every car in its roster is a must.