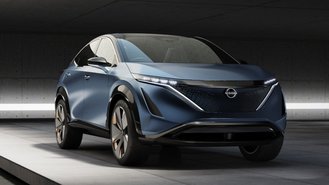 The Consumer Electronics Show (CES) has quickly become the place for automakers to showcase new technology. At this year's show, Nissan unveiled a new dual-motor, all-wheel-drive powertrain for its upcoming electric vehicles. The powertrain is playfully called "e-4ORCE," which surely refers to the all-wheel-drive layout and electric power source. Nissan's Ariya Concept, which is also on display CES, is expected to be the first production vehicle from the automaker to have the powertrain.
Currently, Nissan's all-electric vehicles (mainly the Leaf) have been front-wheel drive only. The new e-4ORCE would give Nissan an all-wheel-drive platform to use, helping improve performance and capability in inclement weather. It should also help Nissan make competitive electric cars, as quite a lot of electric vehicles are now offered with all-wheel-drive powertrains.
Nissan's senior vice president of research and advanced engineering, Takao Asami, claims the e-4ORCE system helps enable "excellent cornering performance and traction on slippery surfaces and comfortable ride for all passengers." Currently, Nissan's not really interested in electric cars with great performance, so the new platform could help change that in the future.
Beyond performance, ride comfort was another focal point for Nissan with e-4ORCE. The system, using experience engineers learned from Nissan's other all-wheel-drive systems, was designed to manage electric vehicle power outlet and braking performance in the name of smoothness. By employing regenerative braking from both of the electric motors, e-4ORCE minimizes the amount of pitch and dive passengers feel in the EV, especially in stop-and-go traffic. Nissan claims that "motor control is optimized," which sounds a lot like power is restricted, over rough roads to minimize lopsided movement.
Nissan showcased the e-4ORCE powertrain before in a Leaf test vehicle last October. At the time, the automaker claimed the powertrain was rated at 304 horsepower and 501 pound-feet of torque. That's a lot more than the Leaf Plus' current powertrain, which is good for 214 hp and 250 lb-ft of torque. What kind of range we can expect to see with the new e-4ORCE system is still a mystery, though we wouldn't be surprised to see a lot more than the Leaf Plus' range of 226 miles.