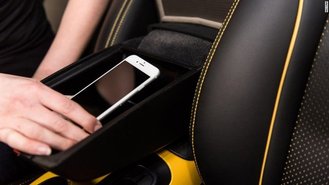 Does your cell phone distract you when driving? If so, you'll want to check out our favorite new accessory. It comes from Nissan's UK branch, and it's a piece of 19th Century tech that perfectly handles a 21st Century problem.
It's called a Faraday cage, and Nissan's British geniuses integrated one into the armrest of a Juke. The result, according to Nissan UK, is an new armrest-integrated signal blocker designed to reduce driver distraction. Placing a phone in the compartment and closing the lid will effectively block all incoming cellular, wifi, and Bluetooth signals, reducing driver distraction. Opening the compartment restores connectivity.
At this stage, the Nissan Signal Shield is just a prototype, but there's certainly a need for it. According to Britain's Royal Automobile Club, cell phone use while driving is up from eight percent in 2014 to 31 percent in 2016. Nissan's own data, meanwhile, shows one in five drivers admit to texting while driving, while the British Medical Journal has found that drivers using a phone are four times more likely to be involved in an accident.
Check out Nissan UK's short video of the Faraday-cage-equipped Juke below.